Complete navigation package now

only £289.95

including carriage, Tablet with detachable keyboard Windows 10, touch screen,Chart Plotter, Tide Plotter and GPS all installed.
Linx10. You can add an AIS receiver for £69.75
Complete navigation package all ready to go from the box
Sorry currently out of stock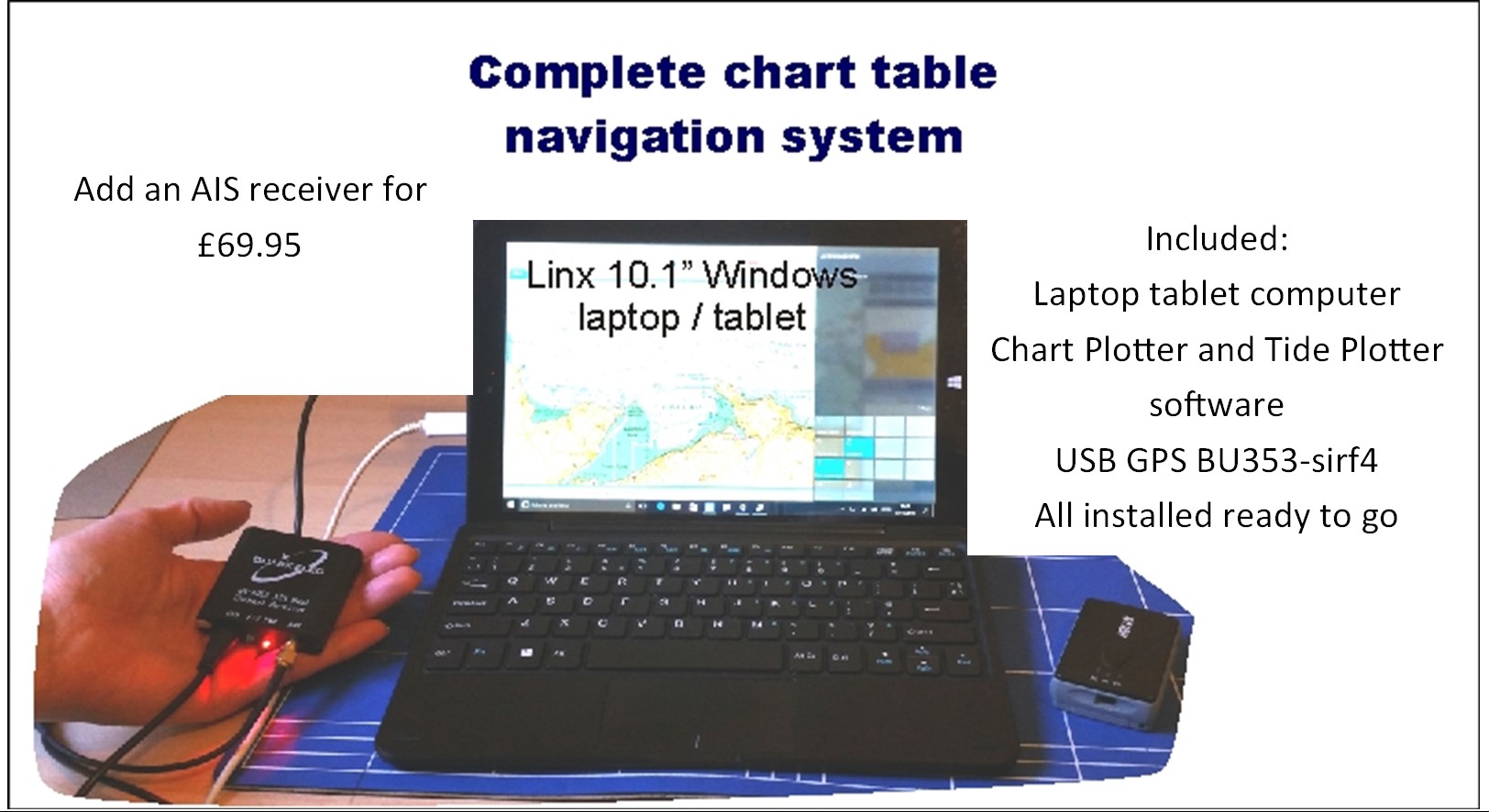 Ideal for use on your boat, navigate with it, do all your passage planning, carry it around with you; plus it has all the features you would expect with a Windows computer. Access the internet via a WiFi connection, email, weather information etc., etc.
The Linx 10 tablet comes with 1 year manufacturers warranty and offers all the high-end style you're looking for, but without the high-end price tag. There's no compromise on performance. You can get going fast using an innovative Fast Start, while a 10" LED screen lets you enjoy the sharpest details and boldest colours. It also delivers up to an extensive 6 hours of battery power and will charge from your 12v boat system as well as the mains. Which is probably just as well, as it's lightweight and ultra durable design and host of advanced communication and data-sharing tools mean you really can just keep on going and going.
Colour can vary from illustration
Intel® Atom x5-Z8300

2GB RAM + 32GB Internal Storage

10.1" IPS TFT LCD

2MP Front + 2MP Rear Camera

Windows 10
Price £289.95.00 includes carriage by courrier. You can add the AIS receiver for an additional £69.75
--------------------------------------------------------------------
For the larger screen version with a 12.5" screen. Sorry out of stock
Intel Atom x5-Z8350 1.44GHz

4GB RAM + 64GB eMMC

12.5" Full HD Touchscreen

WIFI + 2 Cameras

Bluetooth + Windows 10 Home
Price £324.95.00 includes carriage by courrier. You can add the AIS receiver for an additional £69.75
-----------------------------------------------------------------------------------------------------
Also - already have a laptop, then transform it into a fully functional navigation station for less than £100